Hello! It's been awhile here since I've done a Top Ten Tuesday. I'm changing up the prompt a little bit this week because I couldn't really think of ten book settings I'd like to visit (other than, you know, Hogwarts), mostly because I don't read a ton of fantasy and it's hard to find stories set in the real world that you'd really want to be in. So today I'm taking a more negative route.
Today I'm linking up with The Broke and the Bookish for a Top Ten Tuesday!
This week's theme: Ten Bookish Settings I'd Love to Visit
My theme: 10 bookish settings I definitely do not want to visit.
The Hunger Games // Suzanne Collins
Obviously this whole list could be made of dystopias, so I'm going to limit myself to just one. And out of all of them, I think the setting in The Hunger Games is the most frightening (although 1984 is pretty bad, too).
Ready Player One // Ernest Cline
(You miiiight be able to classify this as a dystopia but I see it more as a really awful near-future. The government isn't the main antagonist, so I don't see it as a true dystopia.)
On the surface, this might seem like a place you'd want to go. But oh no. Earth is pretty much a wasteland, and people really only find solace in the OASIS, a virtual reality gaming platform. But corporate scoundrels trying to take control of the platform will pretty much go to any lengths to get their way.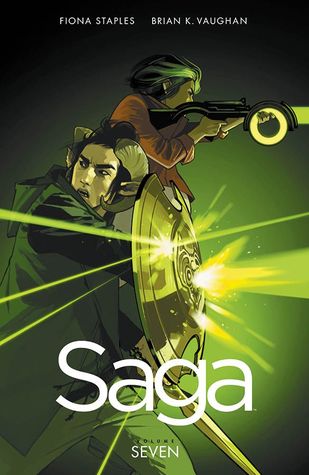 Saga // Brian K. Vaughn and Fiona Staples
I love how the planets in this graphic novel series are portrayed, but I'd never want to go to any of them. So much war and unrest everywhere.
Attack on Titan // Hajime Isayama
Trapped inside a huge city of three walls (the richest on the inside, the poorest in the outer ring) with man-eating titans outside and breaking their way through….no thank you.
Half Bad // Sally Green
Ugh. It's like there's no winning in this setting, no matter what type of witch you are. The White Witch society is deeply corrupt…but the Black Witches aren't all rainbow and sunshine, either. Either way, you're either being hunted or afraid of doing anything to incriminate yourself, even if you've done nothing wrong.
Artemis // Andy Weir
Humans were meant to stay on Earth. Just the thought of living in a city that could blow up or lose oxygen at any given moment is terrifying.
Alice's Adventures in Wonderland // Lewis Carroll
Anthropomorphic animals give me the creeps.
Bone Gap // Laura Ruby
I just don't like magical realism, okay? This weird town filled of weird people where corn can talk or something and people get kidnapped and whisked away. I'd rather not.
A Series of Unfortunate Events // Lemony Snicket
I know it's pretty much the namesake of this series, but these poor children. Nothing good ever happens. It's just one terrible thing after another and I become disheartened very quickly.
Holes // Louis Sachar
Not a huge fan of exercise. Or deserts. Digging a hole every day sounds like true torture.
–Emily
currently listening to // Feathers by Library Tapes
~~~
What book setting do you definitely not want to visit?