I haven't been reading very much lately. It started with NaNoWriMo, and then I kinda just got into a reading slump (I blame Renegades). But I have listened to a few audiobooks in the last month and thought I'd share some reviews!
---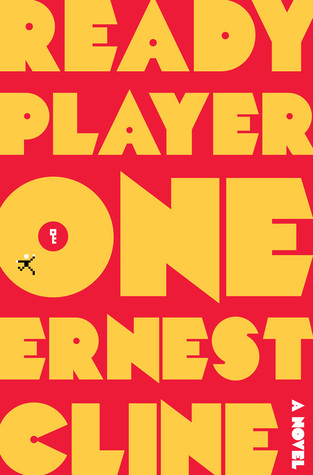 Ready Player One // Ernest Cline
I was pretty intimidated by this book because I know a lot of people love it and I also know that it does not sound like a book I would usually like at all. I'm not into gaming. I'm not a huge fan of the 80s. I was afraid that all the references would be lost on me and I would have no idea what was going on. But that wasn't the case!

Short Synopsis: Players engrossed in a virtual reality gaming system must put their knowledge of the 80s to the test to win the creator's fortune.

Format: audiobook
Overall Feeling: engrossed.
It was really hard to stop listening to this book. Even though a lot of the references went over my head and the story isn't exactly revolutionary (it's pretty much Willy Wonka with games instead of chocolate), I really enjoyed it. And the audiobook is read by Wil Wheaton, who did a fantastic job and is pretty much the perfect guy for the job. (He's even mentioned in the book!)
I did have some problems, though. First: exposition. There's a lot of it. It's not so horrible in audio format, but I bet this can be really boring if you're reading a physical copy. Second: There's a deus ex machina moment, where all the characters' current problems are magically solved. Third: treatment of race, gender, and mental health. I'm not going to go into more details here to avoid spoilers, but there were a few small details in there that most would overlook but that really bothered me. You can see my review on Goodreads if you want more details.
Despite those complaints, I really did enjoy the book and the characters (well, mostly Art3mis). I found a lot of it really shocking, had a few audible gasps along the way, and was sad when I got to the end because I didn't want it to be over.
Rating: 4/5 stars
---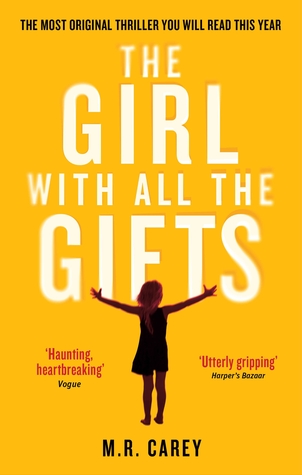 The Girl with All the Gifts // M. R. Carey

I originally checked this out of the library, but its size intimidated me and it sat on my shelf unread for weeks. Then I found it on sale on audible, so I went that route instead, which was the perfect decision. I didn't know at the time that the narrator was British, but she was excellent and made the story really come to life.
Short Synopsis: Intelligent zombie girl must come to terms with her identity as she travels with a small band of human survivors.
Format: audiobook
Overall Feeling: wowwww.
This book is a master at plot. And characters. And description. And metaphor. And figurative language.
Seriously. Usually books have strengths in one area and weaknesses in another, but this book had it all. I am still so impressed by the quality of the writing. I felt so much while reading this—mostly dread, to be honest, because not a lot of good comes from this kind of setting, but also the whole range from joy to terror. It manages to be exciting, emotional, and meaningful all at once.
The only complaint I have is that there's not a ton of explanation. I wanted to learn all the hows and whys, but this book doesn't quite give you the entire picture. There is a companion novel that I assume explores these gaps, but I would have liked to have it all here.  The ending felt a little rushed, so if it had just included a few more paragraphs that explained things more clearly, I think I would have been fully satisfied.
Rating: 4.5/5 stars
---
Will Grayson, Will Grayson // John Green and David Levithan

This was the only John Green novel I hadn't read (I don't usually count Let It Snow), and with all the rush of Turtles All the Way Down coming out, I felt very compelled to read it even though the premise didn't really sound too exciting.
Short Synopsis: The lives of two boys named Will Grayson become intertwined as they yearn for love, acceptance, and friendship.
Format: audiobook
Overall Feeling: not for me.
John Green books tend to be hit or miss with me, and this is my first time listening to one on audio, but this one didn't really do anything for me. There wasn't enough substance. The only character I was mildly interested in was Jane, but I felt like her character was often side-swept to make room for the love exploits of the other Will Grayson and Tiny Cooper.
Mostly, I just found the whole story pretty annoying. The majority of the book isn't about the Will Graysons at all; it's about Tiny Cooper and his musical. And I just found all of that incredibly boring.
Rating: 2/5 stars
–Emily
~~~
Have you listened to any good audiobooks lately?